A little history about us and our 16 plus years in the networking industry. We are Trish and Bob Schwenkler from Boise, Idaho. Currently we are Triple Diamond ASEA leaders, with

24

Many new Diamond+ leaders on the team.

In 1993, I (Trish) was a stay-at-home mom, raising our three children. Bob was the bread winner. He earned a nice living and life was good! Until we had our own economic recession.... Bob came home early from work one day... he had been downsized, rightsized, capsized (just like what is happening now in the economy)...that was the day we learned that "job security" is an oxymoron!

Bob decided to go independent and worked as a consultant and developing products for the semiconductor industry. In the meantime I was introduced to the wonderful world of network marketing thru a product that literally changed my life for the better. Bob's independence as consultant allowed him to help with family duties and with the behind the scenes for my fledgling networking business.

It was definitely a learning experience and lots of hard work, but

after 4 years I was making

in a month

what Bob had earned

in a year

!!!

Bob's 'job' wasn't 'cost effective' any more! So Bob joined full time with Trish, helping out with all the back office and developing world class web based support structure for the team.

After 7 years in our former company, we advanced to the highest rank for the company! We stayed with that company for 15 wonderful years, but in July of 2008, we decided it was time for a change, and subsequently sold that business. (Yes, a network marketing business is a sale-able, will-able asset!)

In transition, we had some great learning opportunities with some good companies, but kept hoping to find a new "home". I wanted a company with "soul", a company that I could once again give my heart to.

ASEA™ is it!

Trish and Bob are founding ASEA Triple Diamond leaders in Boise, Idaho- with lots of amazing team members advancing with us (24 diamonds+) and really this is just the start!

We love the product, management, upline (and downline) team. We really do have the most amazing team support and

we're having fun!
Contact Us Now!
Call Us- 208.584.1213
With Questions About Getting Started With ASEA™
2 Minute Video
Trish Schwenkler and ASEA™ Business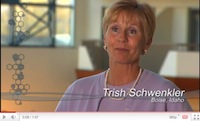 1 Minute Video
Trish Schwenkler and ASEA™ cruise